"Magic Chinese Lantern Fefstival" (Magic Chinese Lantern Fefstival) was held in Pomona Fairplex, Los Angeles county, November 23, 2016.
The theme of the "magic Chinese Lantern Festival" is wildlife. Various lights are made into vigorous cheetahs, jumping koi fish and huge jellyfish and dinosaurs, bringing people into a magical world of lights and colors. According to the introduction, each lantern on the Lantern Festival is from the hands of a Chinese zigong lantern master. Zigong is the center of China's lantern heritage, and the tradition of making lanterns has continued for centuries.
Despite the start of the black Friday sales on Thanksgiving, many residents chose to come to the light show instead of going to shopping.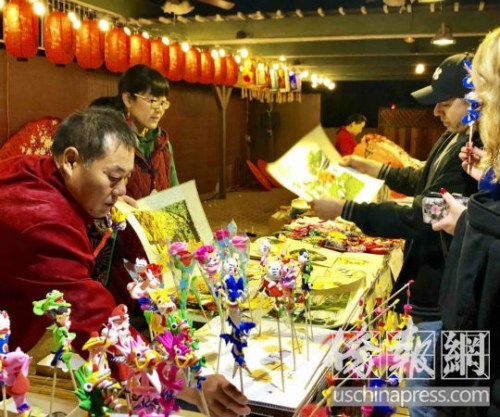 Visitors are interested in traditional Chinese art embroidery and clay figurines. (overseas Chinese daily/weng yu photo)
Mr. Li and his relatives and friends together a total of 8 people turned out to see the light show. He said that he didn't need to go to work today, but he didn't want to go out to shopping, for one thing, he didn't want to buy anything in particular, and for another thing, it was too much trouble for shopping to find a parking space, so Mr. Li searched for activities suitable for the whole family, and found this light show. Although it was a temporary decision, the high standard of lighting on the exhibition made Mr. Li feel that the decision was very correct.
The light show attracts residents of different ethnic groups, some with professional cameras, to watch it. As the lighting changes with the site, it is placed on the lawn, in the woods and on the pool, thus creating a different dream scene.
A Korean couple looked closely at an elephant fountain made of traditional tableware and wondered how long it would take to create it.
.
All kinds of animal lights are vivid in shape. (overseas Chinese daily/weng yu photo)
In addition to the lantern display, there were also performances of Chinese lion dance, shadow puppetry, Chinese folk art paintings and embroidery. Full of traditional Chinese culture lighting and art to attract visitors linger on.
The "magic China Lantern Festival" runs for eight weeks from Thursday to Sunday and ends Jan. 6, 2019. (WengYu)
This article is from the Chinese overseas Chinese network